LivePanel green wall at Borough Market London Borough Market: famous from movies, now with a beautiful view
1000 years of history
This 1000-year-old market is the biggest food supply market in London and has been the number one location for culinary experts and restaurants. The remarkable standard of the goods and services are maintained by quality experts. The market is not only famous on account of its history, but it's also famous for movies such as Bridget Jones's Diary, Lock, Stock and the two smoking Barrels, as well as Harry Potter and the Prisoner of Azkaban. In addition to the rich history of this place, Borough Market has also installed a beautiful LivePanel green wall.
Borough Market opts for the Mobilane LivePanel green wall
Hedera Screens received an enquiry for a large LivePanel wall for Borough Market at the end of 2016.  The client sought to create a green environment, for which the Mobilane LivePanel was an ideal choice. The green wall was designed to be free-standing, with a bespoke irrigation system installed by their own in-house Irrigation Specialist. Hedera Screens will provide the maintenance for this wall during the next year.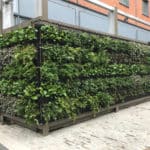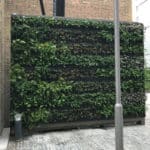 Variety of plants
The plants were green in the beginning, but were blooming in a few weeks! Especially the Persicaria aff, Bergenia and the Heugera 'Paris' are providing the wall with a beautiful appearance. You will find the used plants in the row down below. We congratulate Hedera Screens for finishing this beautiful project. Click here to get more information about the LivePanel.
Cyrtomium falcatum
Cyrtomium fortunei
Persicaria aff 'Darjeeling Red'
Polypodium vulgare
Bergenia 'Overture'
Heuchera 'Green Spice'
Heuchera 'Paris'