Green Screens for The Golf Club Guernsey
The Golf Club St Pierre Park Mobilane Green Screens
It might be just a small hop over the water to Guernsey but it is a huge living wall step forward for The Golf Club – part of St Pierre Hotel Spa and Golf Resort. The prestigious golf club's driving range now boasts a swathe of 3m high Mobilane Green Screens. It was all brought neatly to completion in time for a 300-strong audience at champagne reception in July 2017.
Creating a natural walkway
Thirteen in total and filled with Mobilane's renowned Hedera Helix Woerner ivy variety, the screening solution was discussed, selected and created by Auburn Gardens, also of Guernsey, and supplied by the Mobilane UK team. The new green walkway forms an integral part of an all-encompassing re-branding and relaunch of the golf club and leisure facilities. Leading the way alongside a restaurant and to the driving range, the screens were chosen both for their aesthetic beauty and their visual impact. The Green Screens form the natural corridor from the main entrance to the golf shop on to the course itself.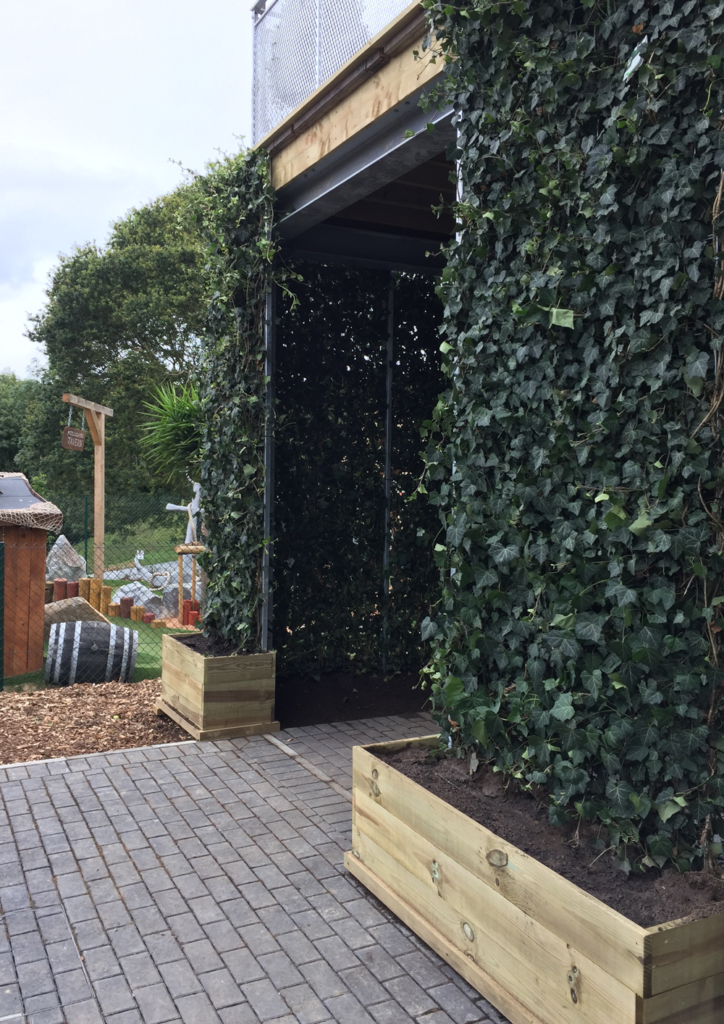 Three days to create, professionally installed by two Auburn Gardens team members, the Mobilane Green Screens were affixed with steel posts to ensure rigidity and the best blend with the more 'industrial' façade of the building.
Meeting and exceeding the brief
With tight deadlines, contractors' renovations and some less-than-straightforward screening areas to consider, Jack Etheridge of Auburn Gardens had a flexible, thorough and positive approach to the project. We'll let him take it from here…
There were three areas where it was not possible to plant the screens in the ground, but the project would not have looked complete with out the screens in the required place. We decided to build custom planters to hold the screens, with automatic irrigation linked up to the rest of the irrigation system.

Getting everything in place with shipment to Guernsey is never straightforward, but this was helped greatly by the great communication I had with Mobilane. Myself and the client were very impressed with the quality of the screens: both the metal grid and plants. I was particularly impressed with the rigorous growth, it was really instant greening of the area, which was exactly what the client required. All parties were very pleased with the screens.

One particular comment from the main contractor really made us all smile: "After working on this project for the past 18 months, you have come along in the last week and stolen the show!" – Jack Etheridge, Auburn Gardens
Mobilane Green Screens – the flexible, customisable, practical, ready-made green wall solution. Interested?