Extensive green roof on multi-storey car park Hornschuchpromenade in Fürth, Germany
Green roof: MobiRoof ECO
Location: Fürth, Germany
Creating a 1300 square metre in three days on multi-storey car park in Fürth
A new car park has been constructed near the Hornschuchpromenade in Fürth and covered with an extensive green roof system. The car park has capacity for 380 cars and has been designed by The Max Bögl Group (MBG) with ease of construction, cost efficiency, visual impact and low maintenance in mind. In collaboration with contractors Isobautec, they selected MobiRoof green roof system from Mobilane as the most suitable option to cover the 1300 square metre roof expanse.
The benefits of extensive green roof systems
"As well as the numerous benefits of the product, the main decision factor for choosing the MobiRoof extensive green roof system was that the plants within the cassettes help to purify and clean the air. This means both a reduction in both CO2 levels and the capture of fine dust particles, of increasing importance to air quality in cities and built-up areas", said the representative from MBG.
There is a welcome increase in the availability of funding from local authorities to encourage the inclusion of intensive and extensive roofs in new construction projects. Contributing to broader biodiversity in the area, these sedum-planted living roofs attract natural and insect interests from bees, hoverflies, beetles and spiders, setting them wildly apart from their flat, tile or bitumen-covered alternatives.
This 1300 square metre green roof installation on the multi-storey car park in Fürth was completed in November 2020 in just three days.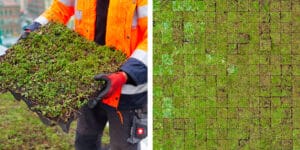 The MobiRoof extensive green roof system
MobiRoof is an extensive green roof system consisting of pre-grown plant cassettes, quick and easy to install in their cassette-based system.
An extra drainage layer is not needed for the Mobilane cassettes. The lightweight cassette system is ready to use: it has a special substrate for rainwater drainage and storage and is supplied with 6-8 different types of fully-grown sedum plants. The cassettes simply click into each to finish each green roof project.