A natural, biophilic look for a flexible London workplace
In London's Shoreditch, a new Mobilane MobiPanel system provides a creative, biophilic interiors solution for a flexible workplace. Montacute Yards is a new, consciously designed office space from flexible workplace providers, Fora. Located in the heart of London's creative neighbourhood of Shoreditch, Montacute Yards blends the workplace experience with café and food market amenities, an events programme, and premium wellness offering. Fora's ambition was to achieve natural, organic look. This look suits a local setting that will be an incubator for start-ups, media, technology, fashion, music and art.
Technical solutions for a challenging space
For the biophilic design of the flex workplace, in collaboration with Fora, and the installation contractor Urban Planters, a MobiPanel Living Wall system with a GN81 irrigation control unit was supplied by Mobilane. This irrigation unit was installed to create an automatic irrigation system. This will keep water usage to a minimum, and maintenance visits reduced. The wicking within the plant cassettes also stores water for when plants require it. Additionally, it uses a soil-based retention system which stores water and nutrients without them running away to waste. Such biophilic design details really help to boost the system's economical and environmental benefits.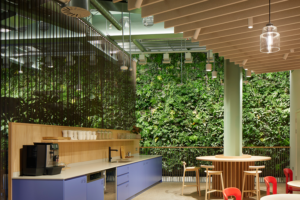 The space was technically challenging. At 54 square meters, and set across multiple floors with a corner midway along the wall, and other obstructions. The team was collectively able to achieve a close, continuous finish. The adaptability of the MobiPanel system, and expertise of the installation team. MobiPanel's unique modular system uses interchangeable cassettes in two sizes. These casettes can be mounted along both horizontal and vertical planes, making it perfectly suited for complicated contexts.
Human wellbeing and biophilia
Located in the workplace lobby area, the wall uses over 2000 individual plants to bring the client's brief to life. Natural aesthetics and occupant wellbeing have been prioritised. "Fora was looking for something sustainable, flame resistant, and which would bring a biophilic presence to the space," says Urban Planters' Jane Lees. "To achieve the final biophilic look for the workspace, we incorporated popular foliage like asplenium antiquum, recently shown by the Royal Horticultural Society to be one of the best indoor plants for wellbeing, as well as more unusual species like scindapsus aureum and philodendron."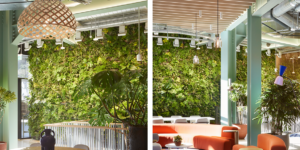 Design details
The plants were carefully selected to provide a diverse range of colours and textures that would work with the various light levels the space offered. Additional lighting was also installed to ensure maximum plant health, along the GN81 irrigation system, which subtly integrates into the wall, using internal capillary microfibre textile fabric, alongside automatic sensors, to regulate water efficiency.
"It's an amazing, soft space, which brings the outside in," says Jane. And she adds: "A fantastic new addition to this vibrant, flexible working environment."