Natural green roof for Techno Centre at TT Circuit Assen
The TT Circuit Assen in the Netherlands has taken a sustainable step by installing a sedum roof on the circuit's main building. The roof, which covers more than 250 square metres, is covered with a layer of sedum plants, wildflowers and herbs that provide numerous environmental benefits.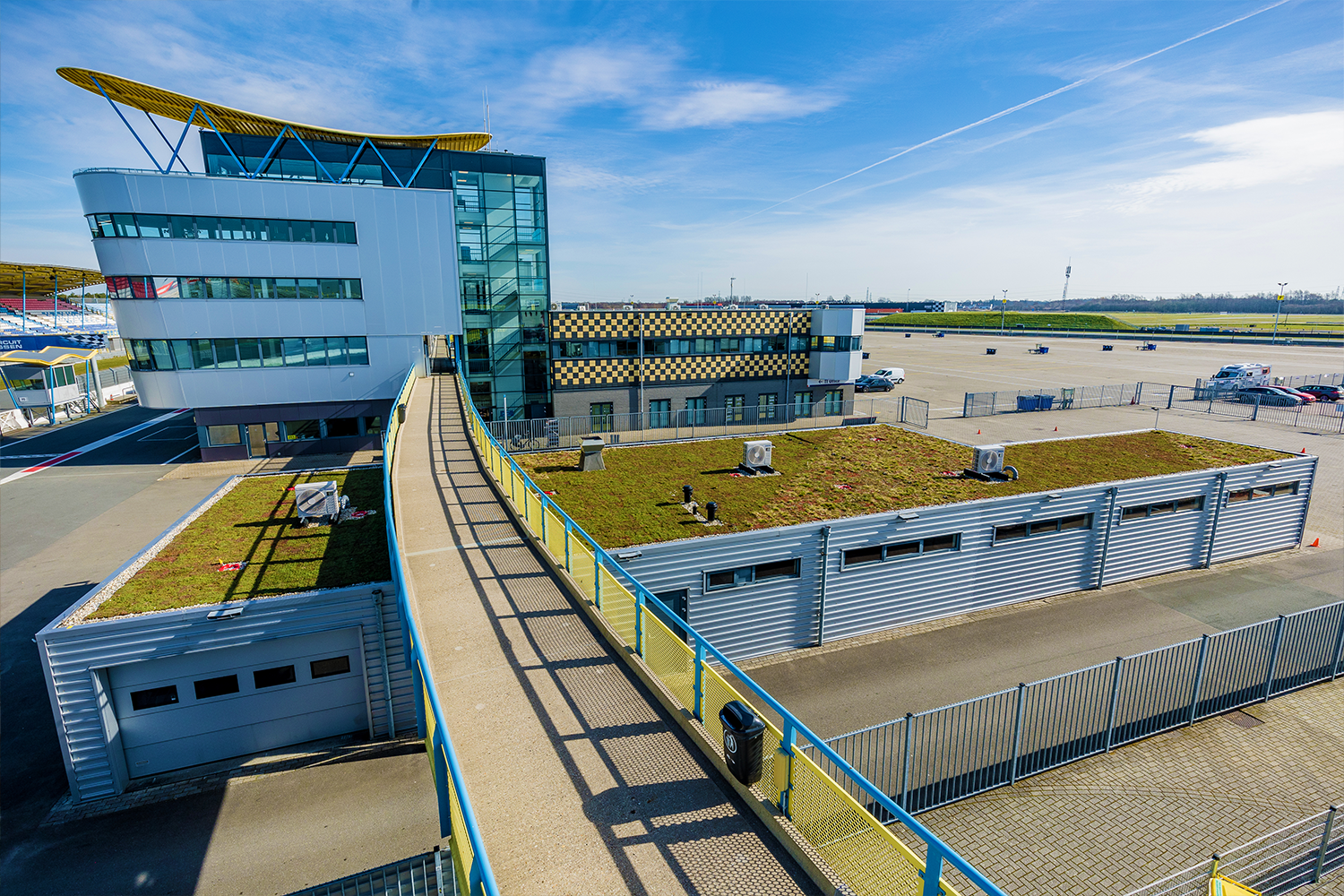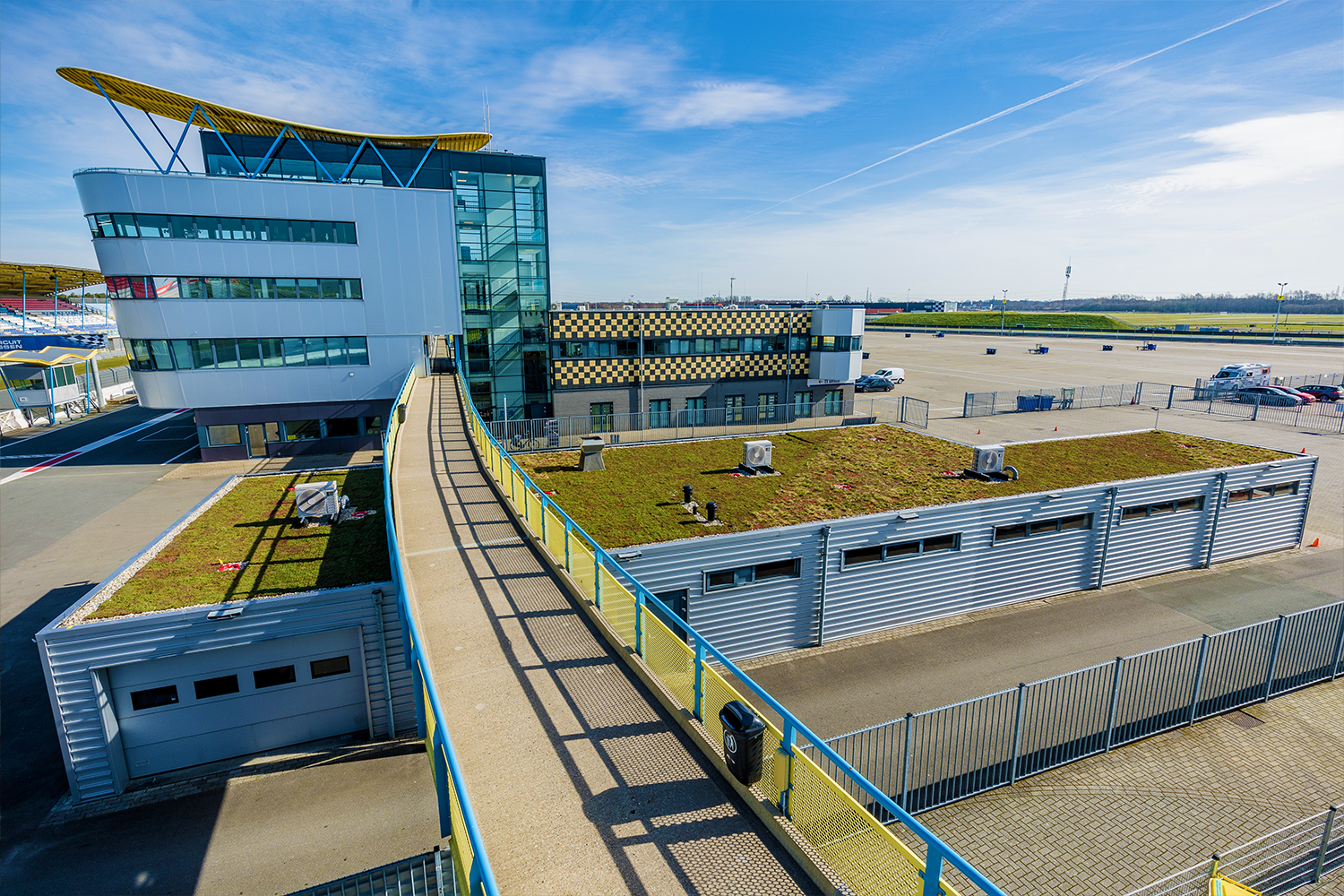 Recyclable and circular green roof system
MobiRoof ECO is a green roof system that is fully circular. The cassettes are made of recycled material and are fully recyclable. This reduces waste streams and therefore reduces pressure on the environment. The cassettes are pre-cultivated in the Netherlands with cuttings from own nursery. This unique lightweight cassette system is planted with various types of sedum plants, wildflowers and herbs. The substrate has the function of a growth medium and also provides drainage and water storage. This means the sedum roof contributes to reducing water flooding in the vicinity of the circuit. MobiRoof ECO also has an insulating effect, meaning that the building underneath stays cooler in summer and warmer in winter.
Cooling the Techno Centre
The circuit definitely believes in the effectiveness of the sedum roof. Peter Oosterbaan, General Director TT Circuit Assen says: "Greening will become a necessary issue in the future, especially in urban areas and areas with a lot of stone and asphalt. We have chosen to have Mobilane expertly install a sedum roof with a mix of wildflowers on the so-called Techno Centre, in the beating heart of the circuit where the machine inspections take place. This green roof literally keeps the inspectors cool in summer! An additional benefit is that the lifespan of this roof is significantly extended. This means you also end up with lower costs and more sustainable use of precious building materials."
Contribution to climate adaptation with sedum roof
Sedum is a succulent plant known for its ability to retain and filter rainwater. On traditional roofs, water flows directly from the roof towards the sewer system. With sedum roofs, this does not happen, or to a much lesser extent. It also provides an ideal habitat for birds, bees, butterflies and other insects. The animals find food and shelter or a nesting place or nesting material. In this way, the roof also contributes to biodiversity. Thanks to its insulating effect, MobiRoof ECO helps reduce energy consumption in winter and thus CO2 emissions. In summer, when the temperature of a black roof can reach 85 degrees, a green roof can sometimes reduce it to as low as 35 degrees.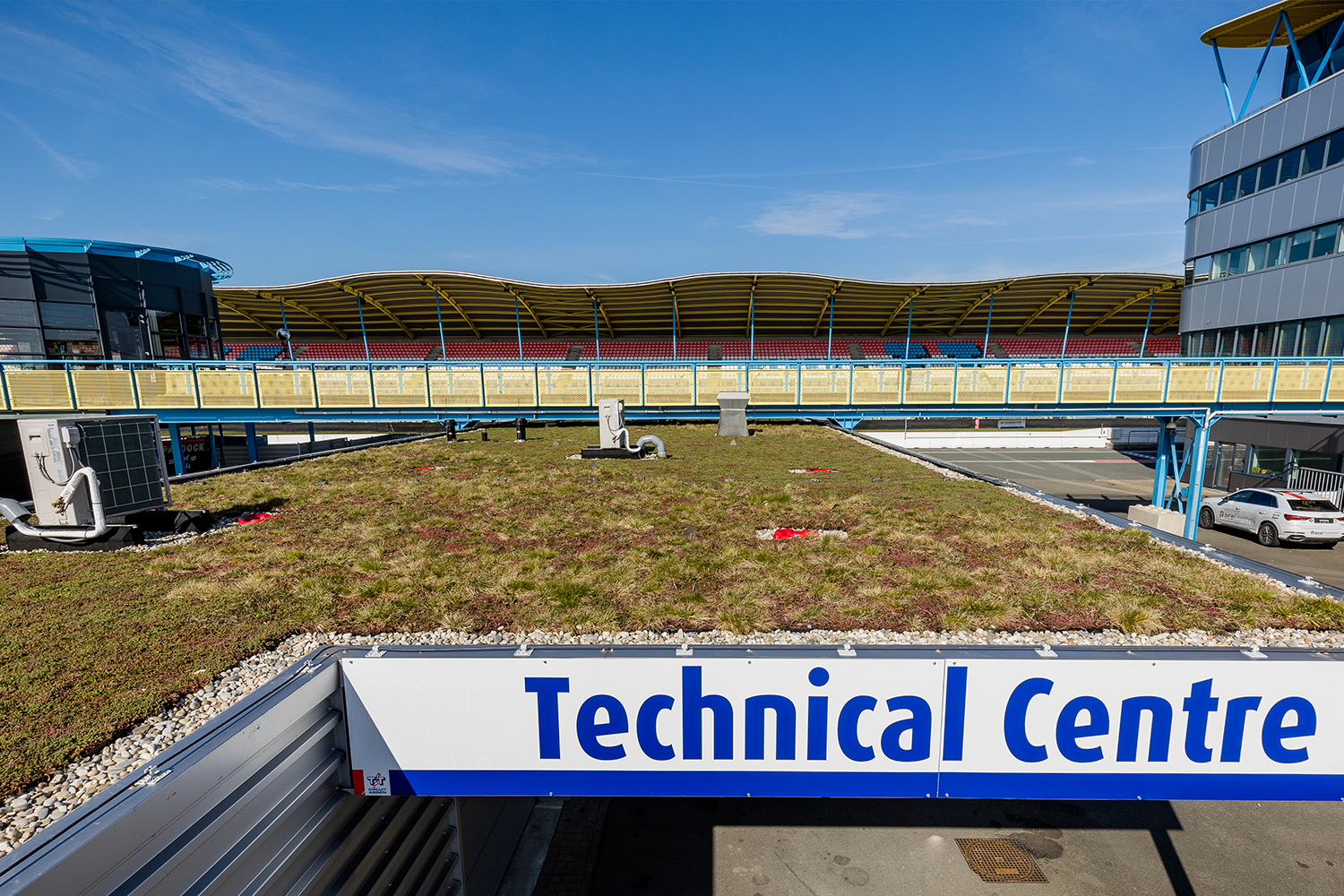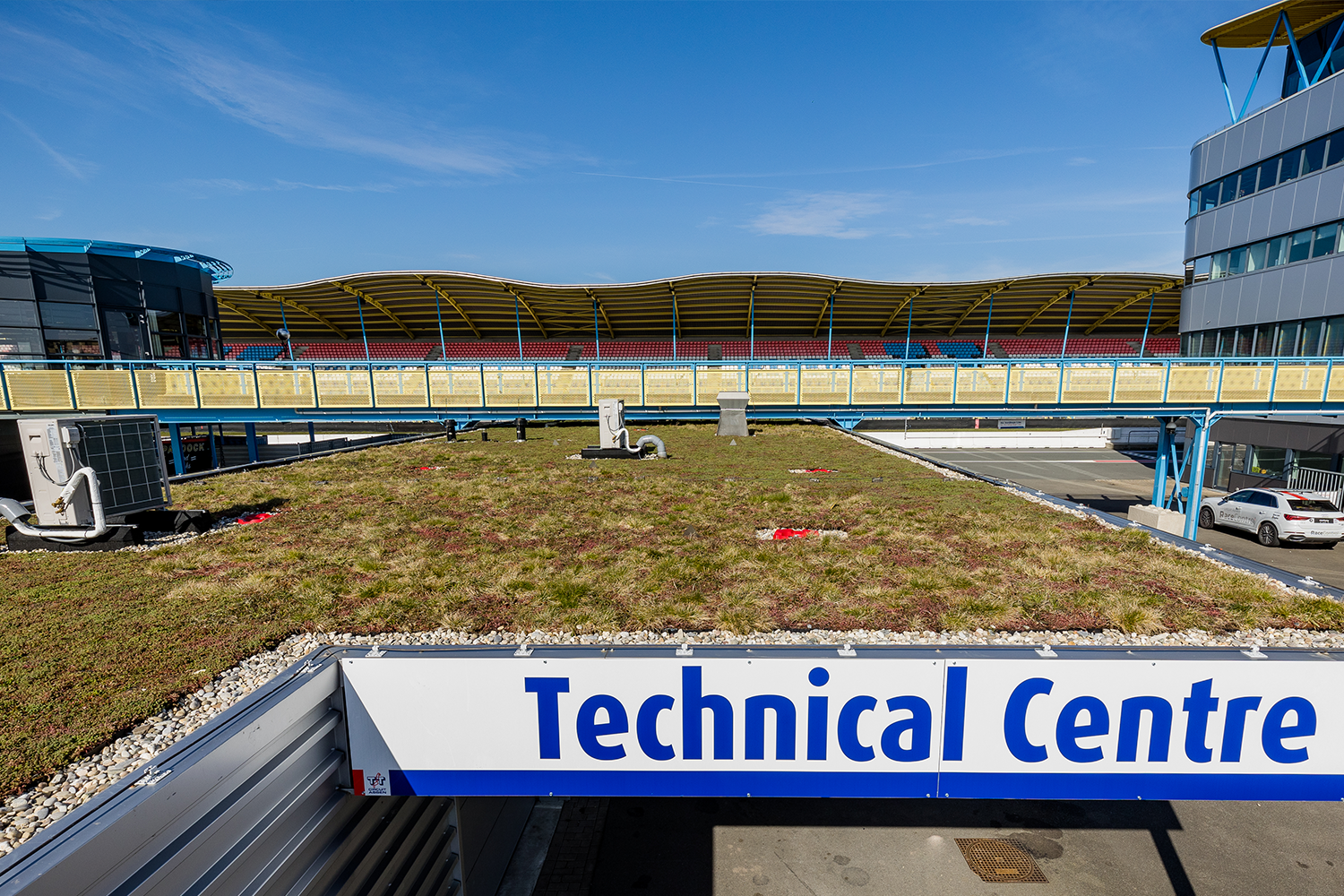 Noise reduction and particulate capture
A green roof is sound-absorbing. This is a good convenience in an environment where the sound of roaring engines is an almost daily occurrence. Plants also possess properties to purify polluting air by trapping particulate matter and absorbing gaseous pollution. Green roofs serve as a 'capture base' for the particulate matter. It precipitates on the roofs, also known as deposition. "As a circuit, we have a responsibility to reduce our impact on the environment," says Oosterbaan. "The sedum roof is an important step in that direction and we hope it will inspire others to also take steps towards greater sustainability. You can't think of a more beautiful place for shaping your ideas than the circuit's starting line."
Experts in roofing solutions
The sedum roof was installed by a team of experts from Dolfsma Dakbedekkingen. This company is specialised in roof solutions since 1975 and is an official partner of Mobilane. Toby Koops, company manager: "We have had a very pleasant cooperation with TT Circuit Assen for years. When they indicated that they wanted a green roof, we recommended a system that is demountable and remountable. MobiRoof ECO from Mobilane is such a system, so that was the ideal solution. When it also turned out that there was a possibility to vary height difference, using sedum and flowers, the choice was quickly made. We then sat around the table as three parties and decided that we would pattern the cassettes; some with sedum and some with flowers."
Sedum roof TT Circuit Assen
The Techno Centre is situated in a visible, central 'hot' spot on the circuit, near the entrance to the pit lane. Oosterbaan says: "The green roof with sedum, wild flowers and herbs gives a very unique green experience in a location where nobody expects it. A lot of people will notice that a really conscious choice has been made here to showcase an important development for the future. It has a nice natural look, which also suits the circuit's location on the beautiful nature reserve and heath of Drenthe. The contrast with our racing activities adds another dimension to this."