Veal producer is going green with Hedera green hedging screens
At veal producer T. Boer & zn. B.V. in Nieuwerkerk aan den IJssel, Netherlands, which has been at its location for more than 120 years, more than a hundred pre-cultivated Mobilane Green Hedging Screens of 3 metres high have been installed. Fifty-five 2.2-metre-high hedges and fifty 2-metre-high hedges have also been planted on the site. A total of almost 300 metres of greenery has been added to the site, supplied by official Mobilane Dealer Bomen Enzo.
'We wanted a natural partition with no see-through. The Mobilane ready-made Green Screen is easy because you get an instant green result. The hedges give a nice and especially green look to the plot; we have received compliments from the neighbourhood and from the municipality,' says Teunis Boer – Managing Director.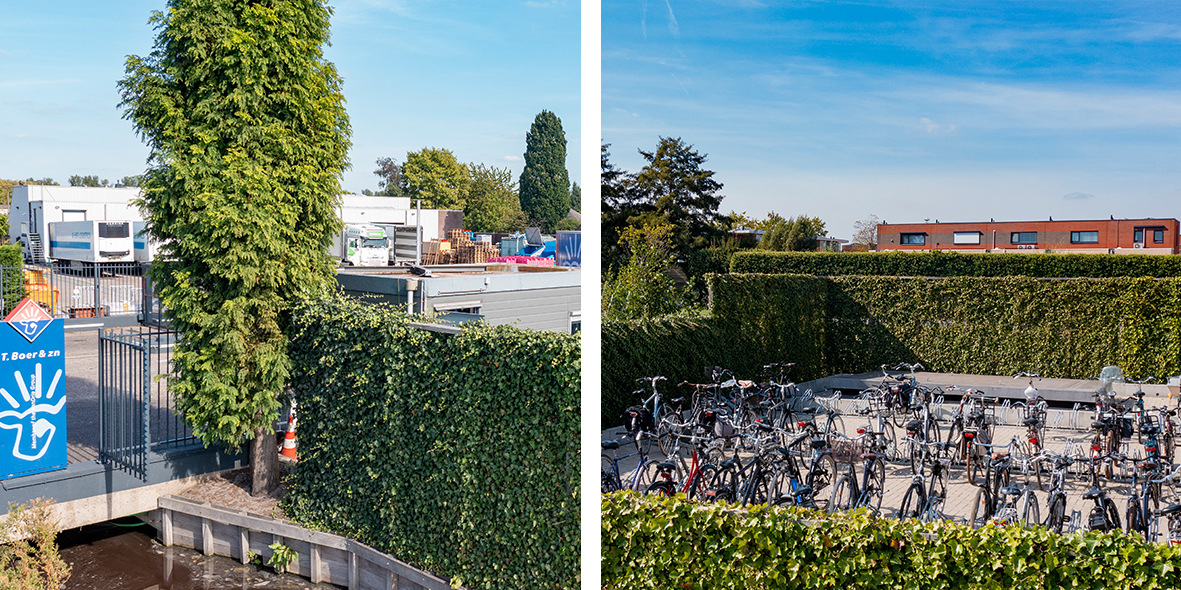 Green hedging screens around business premises
More and more business parks are becoming aware of the benefits of greenery. They are being designed with more space for nature. Instead of steel fences or barbwire, for example, a green roof, vertical greenery against the façade or natural fencing is used. Because Mobilane Green Hedging Screens are pre-cultivated at various heights, they can be used for different applications. The 3-metre-high hedges are ideal for obscuring the view of a business premise from nearby residents. Thus, the appearance of the business premise is aesthetically improved. Greenery enhances the company's image and a high-quality business park is a calling card for customers and business partners.
Stimulation of biodiversity and captivation of particulate matter
A natural green hedging screen is also very healthy for the (working) environment and it stimulates biodiversity by attracting insects and birds. T. Boer & zn. chose the hedge variety Hedera helix 'Woerner'. This species is known for capturing harmful substances, such as fine dust. Especially in areas with a lot of passing and standing traffic and daily transport for loading and unloading, the ready-made green hedging screen is a godsend. An active contribution has thus been made by the company to improving the air quality around the site.